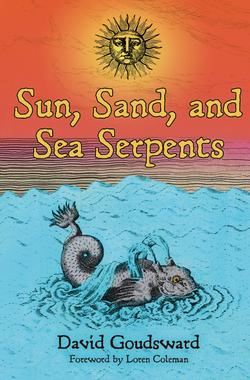 Sun, Sand, and Sea Serpents

by David Goudsward, Foreword by Loren Coleman
Trade Paperback, 298 Pages
$18.95, ISBN: 9781949501117
Genre(s): Cryptozoology
Sea Serpent Territory
Ever since Columbus spotted mermaids, sea monsters, and mystery lizards in the New World, sightings of a diverse array of marine cryptids have continued unabated in the waters of Florida, the Southeastern coast, and the Caribbean. Dinosaurs, mermaids, and sea serpents in a range of colors and lengths, along with monster sharks, mystery seals, and giant penguins, all seem to have made the tourist-friendly waters of the region their home. In Florida, it became a running joke that the tourist season officially started when the first sea serpent report appeared.
What's behind all the reports? Hoaxes? Some certainly are. Yellow journalism? Yes, sometimes. Misidentifications? It's pretty common. A way to drum up business? Shocking, but true. But in that mix, there may well be some unidentified animals as well. David Goudsward digs up the original sources and interviews to sort fact from fiction, and tells some fascinating stories along the way.
About the Author:
DAVID GOUDSWARD is a historian, editor, and author, having written or co-written more than 15 books on topics ranging from H. P. Lovecraft's travels to ancient stone ruins in New England. He is the author of numerous articles on local history topics and a frequent lecturer on historical topics and the craft of writing. He lives in Lake Worth, Florida.
---
---
Foreword by Loren Coleman
Introduction
Chapter 1 - Living Fossils
Chapter 2 - Sea Monster Fatalities
Chapter 3 – Sea Monsters of the Gulf
Chapter 4 - Caribbean Cryptids
Chapter 5 - Krakens of the Caribbean
Chapter 6 - The St. Augustine Giant Octopus
Chapter 7 - Atlantic Encounters
Chapter 8 - Swamp Serpents of the Treasure Coast
Chapter 9 - Lake Monsters
Chapter 10 - River Monsters
Chapter 11 - St. Johns Menagerie
Chapter 12 - Mystery Seals
Chapter 13 - The Legend of Three-Toes
Chapter 14 - Early Encounters
Chapter 15 - Folklore and Fakelore
Chapter 16 - Mermaids, Mermen, and Manatees
Epilogue
Acknowledgments
Bibliography
Index
What they're saying:

"This is an important book, which puts what seems at first glance a rather specialised sub- set of cryptozoology in a wider anomalistic, human and social context. An excellent read, and I cannot recommend it too highly."– John Rimmer, Magonia
"This is truly an extraordinary book! Not just because it focuses on sightings of sea monsters in the sunny Caribbean realm…and not because it contains an exhaustive bibliography… It's because it describes, strictly in words, in clear detail, the features of strange animals." — Paul LeBlond, University of British Columbia, and Honorary President, International Cryptozoology Society
"The writer, researcher, and investigator who is Dave Goudsward… is one of the best researchers I know… All told, Goudsward's extended examination of all the cryptids of Florida and the surrounding area is enlightening. Enjoy the quest!" — Loren Coleman, Director of the International Cryptozoology Museum, Portland, Maine
"This is a good book for reading in installments, on dark nights when not even the crickets are chirping. Will I ever see a cryptid? Unlikely. But Goudsward has provided me with many vicarious sightings, for which I am grateful. His accounts are always well-informed and seek to weigh the evidence as reliably as he can. I don't think you could ask for a better guide to the Florida marine cryptids than Dave." — Ken W. Faig, Jr., Moshassuck Press
"What makes this book stand apart from the competition is the author's deep research, critical intelligence and knowledge of recognised, if sometimes obscure, animal life. Besides contributing something to cryptozoology's continuing conversation, Goudsward gives readers an education in relevant areas of mainstream zoology, not to mention illuminating aspects of Florida history and folklore." — Jerome Clark, Fortean Times
"Goudsward follows every lead and researches local history—did the steamer already exist back then, when was the place settled? He also soberly reveals the gullibility of many cryptozoologists who work exclusively on the Internet, who take every marketing measure at face value... invent stories themselves...and twist sources and misrepresent them...Goudsward is critical, but not a skeptic—he considers the existence of the sea serpent to be proven by the eyewitness reports and finds many observations that he cannot clarify conventionally...Goudsward's book is highly recommended—a book that confirms rather than refutes the existence of the sea serpent, precisely because so many known sightings find a sober explanation, which makes the rest of the unexplained cases stand out all the more clearly." — Ulrich Magin, Network for Cryptozoology
"This is one of the best cryptozoology-themed books I've read in a long time." — Nick Redfern, Mysterioius Universe
"It really seems like there is something for everyone in this book as far as cryptids go, some famous, some not so much, but each one has an interesting story behind it, along with robust research and analysis for each story, in reading one ever gets the feeling that the author just sort of phoned it in and regurgitated what he found in a primary source for his own book...Sun, Sand and Sea Serpents is a great read, reference book, and a worthy addition to any ones library..." — Cryptid History