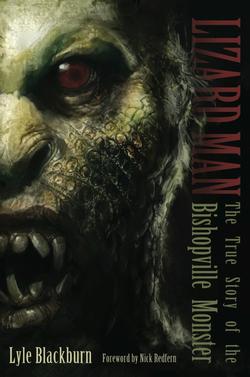 Lizard Man
The True Story of the Bishopville Monster
by Lyle Blackburn
Trade Paperback, 208 Pages, 50 Illustrations
$15.95, ISBN: 9781938398162
Genre(s): Cryptozoology
From the swamplands near Bishopville, South Carolina, come reports of a seven-foot-tall, scaly humanoid creature the locals call the "Lizard Man." Over the years, the creature has been seen by numerous witnesses, including a teenager who claimed it attacked him one night near a remote area called Scape Ore Swamp. The young man's testimony and physical evidence was so compelling, it not only launched a serious investigation by the local sheriff's office but an all-out monster hunt that drew hundreds of people to the small town.
This real-life "creature from the black lagoon" has inspired major national news coverage, even a call from the famous CBS news anchor, Dan Rather, as he and the rest of the world clamored to know more about Bishopville's elusive monster. The case is often mentioned in books, websites, and television shows, but the full story has never been told… until now. This book provides unprecedented documentation for one of the most bizarre and hair-raising cases of an unknown creature. The witnesses are convinced they've seen it, and the local law officials are backing them up. This is their story.
Follow Lyle Blackburn, author of the bestselling book The Beast of Boggy Creek, as he and his partner, Cindy Lee, revisit the sighting locations, speak to the living eyewitnesses, and consider all possible theories in their search for the truth behind the legendary Lizard Man.
About the Author:
Lyle Blackburn is an author, musician, and cryptid researcher from Texas. He has always been fascinated with legends, lore, and sighting reports of "real-life monsters," and is the author of The Beast of Boggy Creek: The True Story of the Fouke Monster. During his research, Lyle has often explored the remote reaches of the southern U.S. in search of shadowy creatures said to inhabit the dense backwoods and swamplands of these areas.
Lyle is also a featured speaker at cryptozoology and horror conferences around North America. He has been heard on numerous radio programs, including Coast To Coast AM, and appeared on television shows such as Monsters and Mysteries in America and the CBS Sunday Morning Show.
For more information, visit: www.lyleblackburn.com.
---
Now available in a laminated hardback edition for a limited time only:
Amazon US
Amazon UK
---
Contents
Foreword by Nick Redfern
Introduction
1 The Lizard Man Cometh
Waye Out There
The Attack
Large Scale Menace
Muddy Waters
2 The Plot Quickens
More Come Forward
Assassination Attempt
The Butterbean Shed
Flying High Again
3 Lizardmania
Feeding Frenzy
Days of Our Lizard
Reptile Dysfunction
Creatures Among Us
Beyond the Black Lagoon
4 Scape Ore Swamp
Home of the Monster
The Name Game
Sceloporus
More Mysteries
5 Return of the Lizard Man
The Blythers Case
Another Close Call
Vehicular Carnage
One More Bite
6 Other Monsters From the Mire
Riverside Reptoid
Loveland Frog
Thetis Lake Monster
Gatormen
Scaly Odds and Ends
7 Possibilities
Derailing the Obvious
Man-Made Monster
Dinosauroid
Reptilian Agenda
Not What It Seems
8 Conclusion
Curse of the Lizard Man
Sunset in Scape Ore
Appendix
Lizard Man Incident Log
Police Reports
Swamp Monster Movie List
Acknowledgments
Bibliography
Books
Historical Documents
Journals
Magazines
Newspapers
Online Articles
Press Releases
Websites
Index
About the Author
What they're saying:

"Just as he did with the Legend of Boggy Creek, Blackburn gets to the roots of the Lizard Man reports, interviewing witnesses, going to the locations and generally leaving no stone unturned. It is, in fact, Lyle's trekking through the Lizard Man's territory that gives the book its driving energy creating a page turner that any mystery novelist would be jealous of. Reading Blackburn's book, it's easy to imagine yourself in the swampy south, wondering what mysteries lurk in the muck...I highly recommend you check out Lyle's book for an entertaining journey to discover the story behind the Bishopville Monster." — David Weatherly, Cryptomundo
"...an expertly crafted allegory that is informative as well as entertaining. The investigations conducted by the local authorities are chronicled so well that the reader shares in the drama of the encounters. The book provides exceptional documentation for one of the most bizarre cases of an unknown creature." — Lon Strickler, Phantoms & Monsters
"An enthralling, chillingly atmospheric, and deeply revealing look at a strange and controversial legend." — Nick Redfern, author of Monster Diary
""Lyle Blackburn represents a new breed of monster hunter… edgy, smart and unwilling to leave any stone unturned." — Ken Gerhard, author of Encounters with Flying Humanoids
"A very important book . that takes all of the necessary complexities of a small-town monster legend into question." — Micah Hanks, author of Magic, Mysticism and the Molecule
"One of the factors that stands out...is [the author's] willingness to not only do the research but to visit the scene of the sightings and give the reader a glimpse into the atmosphere that underlies the sightings he is writing about. It is this atmospheric quality that really makes Mr. Blackburn's books stand out...Lizard Man is a fascinating read that will leave the reader with not only a thorough knowledge of the topic but also a real taste of the mystery surrounding the case." — Monsters and Magic